For Data Governance Managers and Data Stewards
Critical for all departments or organisations seeking to achieve more effective data governance across enterprise-wide applications and systems. Includes workbench to assign responsibility to data stewards for faster, auditable resolution of anomalies detected.
Loome provides a simple solution to help drive ownership of data quality issues, the platform provides a central library of data quality rules, exception tracking and automated alerts. Feedback from data stewards can be collected and a full audit trail of resolution is stored for reporting. The platform automatically executes business rules and presents real-time targeted alerts to operational staff.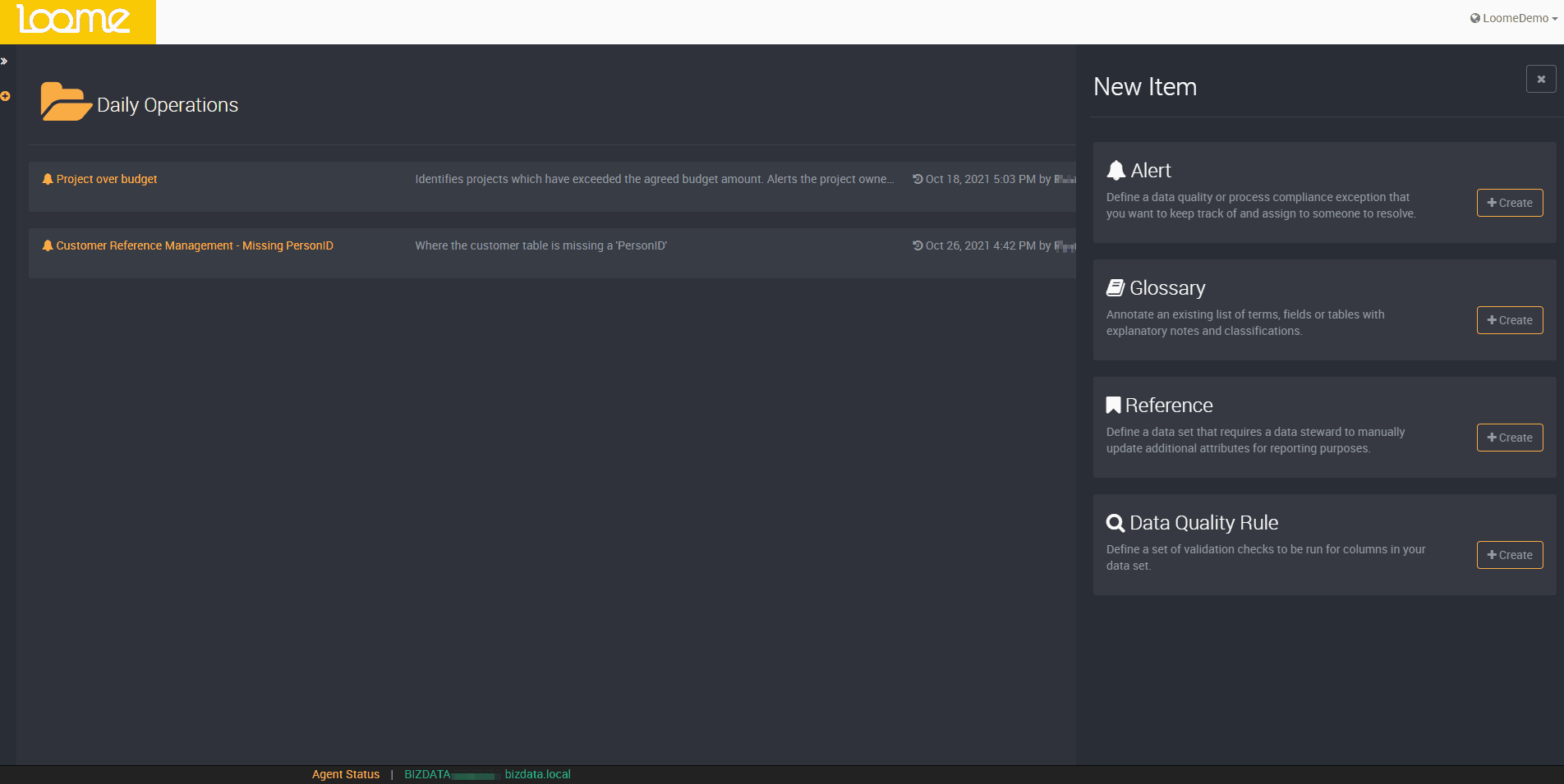 Drive business participation in monitoring and resolving data quality incidents
Loome provides a user interface that brings together data engineers, data stewards and operational staff to define data quality rules and to receive alerts and track resolution of issues.
Ensure the integrity of your data warehouse
Loome provides a central data quality rule repository which runs in conjunction with your data pipelines to assess the health of your data. Full transparency of all data quality issues is provided by storing time series results in your own data warehouse. This makes integration and reporting seamless without the need to query API's.
Data validation and screening
Keep track of data quality exceptions and assign to data stewards for resolution.
Data Stewardship
Enforce data governance policies such as classifying data sensitivity and capturing descriptions of key metrics. Leverage role based security to assign ownership between engineers, stewards and operational staff.
Automated Reconciliation
Automatically compare data sets to check for completeness and verify calculation logic.
Business Alerts
Provide alerts on your operational and analytical data and track resolution of issues.
Manage reference data
Provide an online user interface to capture data typically held in spreadsheets or Master Data Services, with Excel export and import.
Track issue resolution
Automatically detect when an issue is resolved and prompt data quality issue owners to capture feedback.